Upcoming Services 
We are continuing our current practice of worshipping in the Church building at 11am each Sunday and broadcasting this service live on Zoom. 
We invite you to join us for the following services which are led by Rev Dr Amos Chewachong unless otherwise stated. 
Sunday 14th August 2022 - 11am Service led by the Holiday Club
Sunday 21st August 2022 - 11am Service
Sunday 28th August 2022 - 11am Service
Sunday 4th September 2022 - 11am Service
If you would like details on how to join us for any of these services (either in Church or on Zoom) please get in touch through the Contact Us page. 
Recent Orders of Service and Recordings
You can view recent Order of Services, listen to recent services and read our latest Church Journal by clicking the links below.
Click here to view the 7th August Order of Service
Click here to view the 31st July Order of Service
Sunday 7th August 2022 at 11am - led by Rev Dr Amos Chewachong
To listen to this service please click below
Sunday 31st July 2022 at 11am - led by Mr Philip Owen
Click below to listen or download this service
For more services please visit the Archive page.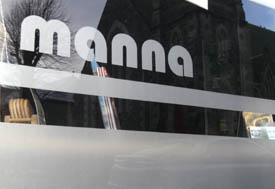 Visit manna for excellent coffee and bakes, meet friends and enjoy the relaxed atmosphere! 
manna is already becoming a regular meeting place for groups and clubs - at all times of the day! We also stock gifts, crafts and jewellery! Love manna? Love Baking? Call in to see how you can help!
manna cafe
Opening hours are Monday - Saturday 10am - 4:30pm
11-13 Cupar Rd, Newport-On-Tay, Fife, DD6 8AF
Tel: 01382 542781

Church Hall Booking

Our Hall Complex is now open again and is available for bookings, subject to the approval of Risk Assessments, etc.
For more information, or to book, please phone Jane Johnston on (01382) 541606 or email: j.johnston58@btinternet.com
Full details on request. Bookings by outside organisations must be approved by the Minister or Session Clerk.